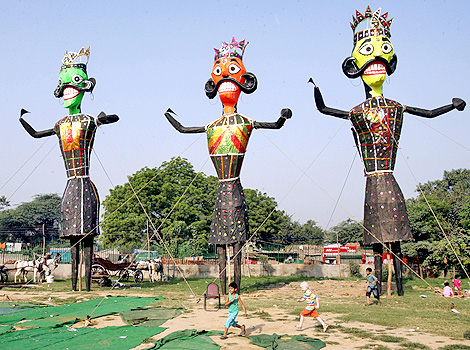 The underlying tradition and mode of celebration vary vastly by region. However, all festivities celebrate the victory of the forces of Good over Evil. It is considered an auspicious day to begin new ventures in life. It is the largest festival of Nepal, and celebrated by Hindu and non-Hindu Nepalis alike.
This day marks the triumph of Lord Rama over Demon king Ravana. On this day, Rama killed Ravana.
This time, it should mark a beginning of peace and prosperity to all Indians. We have suffered a lot this year because of wrong people, wrong policies and bad leadership. The Ravana are the terrorists, the
rapists and the corrupt politicians. As the body of Ravan explodes and a light of a new dawn spreads, we have to refresh ourselves to fight out terrorism out of sight. Enough is enough now.
A word of caution, although we might be celebrating the victory of good over the evil, there will be the evil forces ready to strike as loads of men,women and children will out on the streets watching the celebration. Have a happy Dussehra and a prosperous year ahead.