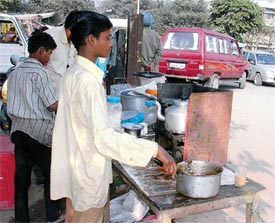 There is a community who we always forget to thank at the end of our success trip, a community we fail to recognize as one. They still serve us as faithfully as they can. A stroll on the road and it wouldn't be hard be hard to spot one. With a small shop hardly noticeable to the people in big cars with tinted glasses stands a tea stall owner often surrounded by bunch of people ready to have a sip of life for only Rs4. There could around 4 to 5 shops on a road and in crowded places and office areas there could be more than one in the same place. These can be found anywhere in India, but still they go unnoticed as an industry.
The working class of India spends around 15 minutes minimum at these shops everyday, and a significant part of time of their lives but the sheer simplicity of this business makes us hard to recognize this as one. Still no reforms for them, no upliftment and no consideration also. The investment is a big table, a stove, a cylinder and other raw material like, milk, sugar, tea, cigarettes, biscuit, bread and egg.
Every morning you might hundreds of people flocking to these ponds of tea, cigarette,biscuit, bread and omelet and having their potion of the day, that would drive them till the afternoon. Then again they come in the afternoon as birds refilling their tummies with water at the local pond.
The evenings are no different. Till now its been a silent journey for them, but it is hard to imagine a day without the services of these people, who have quietly taken up the responsibility of giving the working class the power to work harder and enjoy the work.